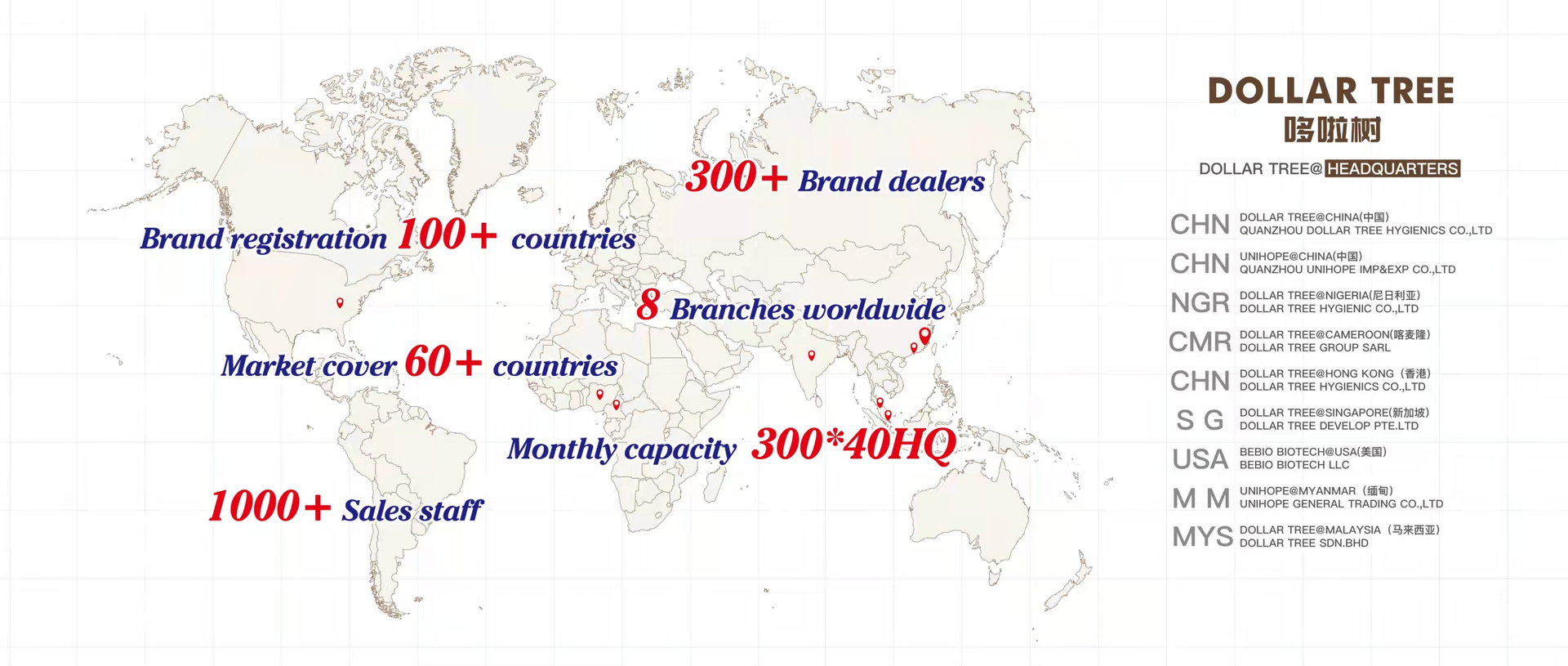 ONE DOLLAR TREE ONE HOPE
DOLLAR TREE grows together with all brand customers
QUANZHOU DOLLAR TREE HYGIENICS CO., LTD was established in Jinjiang, Quanzhou City, Fujian Province, China in 2014, which is global leading enterprise of nursing care brand. We extremely focus on business model of RIT (Research, Industry, Trade) combined R&D, manufacture, marketing, promotion, storage, import & export and investment. It is mainly engaged in hygiene products, such as baby & adult diapers, baby & adult pants, wet wipes, sanitary napkins, nursing pads etc.
Our mission is "KEEP ON CREATING NEW EXPERIENCE OF HEALTH". While providing OEM&ODM services, we have accumulated more than 10 years of production and market-related experience, and gradually established domestic and overseas own brands, and successfully transformed from OEM to OBM enterprise.
DOLLAR TREE. GLOBAL

We have 8 branches around the world, our brands have covered more than 60 countries and regions including North and South America, Asia, Africa, and have more than 300 brand distributors.
Our independent brands include "DOLLAR TREE", "NAPEE", "UNIHOPE", "GIO". We actively promote the diversification, globalization and internationalization of the Dollar Tree business.
Our "UNIHOPE" and "NAPEE" brands have joined Madrid Intellectual Property System and OAPI organizations, and registered and protected in more than 100 countries around the world.
WHY DOLLAR TREE?

1.Digital management: Our company adopts advanced data management tools to make the sales-production-shipping-after sales process more standardized, which greatly improves production efficiency, reduces production losses, and stabilizes product quality.
2. Quality certification: ISO, SGS and GHS Quality and Safety Certifications. And passed the factory audits of Wal-Mart and COSTCO.
3. Management and team: We introduces the Amoeba (JAPAN) management model and PDCA management philosophy, improves the internal management system, and builds a passionate and creative sales team of more than 1,000 sales staff worldwide.
4. Advantages in resource integration: Our company has become long-term partners with China Credit Insurance, China Construction Bank, many well-known shipping companies and raw material suppliers, which makes our cost lower and payment methods more flexible.
5. Supply capacity: 18 Fully Automatic Production Lines. Monthly supply capacity reaches to 300*40HQ, which ensure us to meet customer's requirements about production.
6. Design and R&D capabilities: We insist on original design, and the research and development team has 5 people, of which the main designer is from Singapore, who has 15 years of design and research experience. We launch 1 or 2 new products every month in response to market demand.
7. Quality control: Each machine is equipped with 2 QCs, sampling and testing once every half an hour, and then taking 5% to 10% of bulk goods from the warehousing stocks for inspection. Only after passing the test, it can be shipped out.